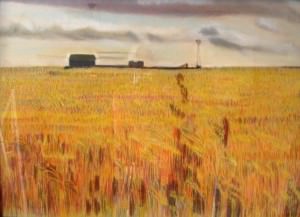 Have you explored your basement or attic recently? Well, you might be surprised at what you find. (Click the image to view it full size.)
In early 2007, I started unpacking boxes with Shonie, my husband Bill's assistant, and let out a big secret! I have been drawing and painting off and on for years, and have a collection of diverse and whimsical pieces. I finally decided to show the work to my family and friends.
This then culminated in my first ever art show, held in November 2007 at the Bloomfield Hills Country Club and the launch of this web site! I am so happy to be able to share the art with family and friends who live all around the world. In my life with Bill, we have been very lucky to travel to so many places – Australia, Brazil, Japan, and best of all to live in England for several years as well. You can read more about "my Bill" here on his website, WilliamPBenton.com.
My sincere thanks to my major benefactor, the Bank of Bill!